Sherkin Island is the perfect place to immerse yourself in the natural beauty and character of Ireland's Wild Atlantic Way.
The Island offers a diverse untouched landscape from the sheltered bay of Horseshoe Harbour on the East side of the island to the wide vista of Silver Strand on to the West Side.
Bird Life
Sherkin's geographical position, on the edge of both an ocean and a continent, ensure that it is a prime spot for birds at all seasons. Although somewhat overshadowed in the ornithological annals by its near neighbours Cape Clear and Mizen Head, the species tally is wide & varied and reflects on the enviable range of habitats available.
Spring sees the arrival of our migrant breeding species along with the annual awakening of the resident ones. Scrubland and wooded areas echo to the sound of singing songbirds and Skylarks can still be heard towards the north of the island. Somewhat less melodic though certainly not lacking in character, Choughs are at their most acrobatic around the coasts and cronking, tumbling Ravens are a common sight in Slievemore. The first long-distance migrants to arrive, in late March, are Chiffchaff, Sand Martin and Wheatear which are closely followed by Swallow, Grasshopper Warbler, Willow Warbler and Blackcap. Later April arrivals include Cuckoo, Whitethroat and Sedge Warbler.
A small seabird colony at the south end of the island has breeding Fulmar, Cormorant and Shag along with three species of gull. Black Guillemots breed at the base of the cliffs and congregate on the water during the early morning. Common Scoter, Puffin and Sandwich Tern are regular along the south coast during April. Great Northern Divers is a drop-dead-spectacular bird in spring and often venture into Cuinne at high tide. Shelduck and Red-breasted Merganser are also regular there and are looking their best at this time of year. May brings the chance of two special birds on their way to northern breeding grounds – Whimbrels are returning to Iceland and flocks often stop off on the strands and at sea, small groups of Pomarine Skuas can be seen passing on their way to the high Arctic. On land, south-easterlies always hold the promise of something special – Little Bittern, Stone Curlew, Hoopoe and Woodchat Shrike have occurred.
Summer, August in particular, is the prime time for looking to the sea. South-west Ireland is one of the finest parts of Europe for watching seabird passage. Although sitting on a headland in often inclement weather for hours on end may not be everyone's cup of tea, the rewards can be substantial. The most common species seen from Sherkin are Manx Shearwater, Gannet, Fulmar and Kittiwake. In particular, Manx Shearwaters pass in sometimes outstanding numbers – counts of 10,000 per hour and more are not exceptional and are quite a spectacle.
Less frequent but still regular are European Storm-petrel, Sooty Shearwater, Great Skua and Arctic Skua, all of which are pretty much guaranteed in the course of a two-hour morning watch off the southernmost tip of the island. Spicing things up a bit, favourable conditions (a south-west wind with intermittent rain) bring the chance of something rarer. Cory's, Great & Mediterranean Shearwaters, Wilson's Petrel, Grey Phalarope, Pomarine & Long-tailed Skuas and Sabine's Gull have all been seen in Sherkin waters. And for the high hitters, Fea's Petrel has occurred on at least two occasions in recent years, most recently in August 2018.
Autumn is the birdwatcher's favourite season so far as sheer numbers and variety are concerned. Again, Sherkin's location at the edge of a continent puts it in good stead in the eyes of migrant birds. All of Ireland's commoner migrant species can be reasonably expected and the likes of Wryneck, Yellow-browed Warbler and Firecrest turn up on a near to annual basis.  Although nowhere near as prolific as nearby Cape, Dursey and Mizen in the rarity stakes, rare vagrants have turned up and the wide range of habitats oozes potential for the rarity finder from late-August thru mid-November … Chimney Swift, Pallas's Warbler, Serin and Rustic Bunting are all on the Sherkin list.
Winter is a more sedate affair altogether. Great Northern & Red-throated Divers are a regular sight off the western shores and the stretch between Sherkin and Cape can hold impressive numbers of Shags, Kittiwakes, Guillemots and Razorbills. Winter wildfowl include Red-breasted Merganser, Wigeon and Gadwall plus the occasional Whooper Swan. Last but by no means least, winter is the season for gulls and Sherkin can hold its head high in that department. Mediterranean, Iceland and Glaucous Gulls are all regular whilst rarer species include Little, Ring-billed, Yellow-legged and Ivory Gull.
Mammals
Being an island at the edge of a landmass, Sherkin is understandably lacking in variety when it comes to land mammals. Foxes are relatively common and are best looked for in the early morning and evenings, with field edges in Farranacoush and Slievemore being the best bets. Three species of bat (Pipistrelle, Soprano Pipistrelle & Long-eared)  occur on Sherkin and are best looked for at dusk in the stretch between the bars and around the two crosses. Hares are occasionally seen in Farranacoush. Small terrestrial mammals are limited in variety – Pygmy Shrew and Long-tailed Field Mouse are the two non-pest species. What is lacking on land is more than made up for in the water.
Otters are also frequent and are found along the entire coastline, though catching sight of one requires a fair amount of patience and luck, not necessarily in that order. Grey Seals are commonly seen from the west and southern shores while Harbour Seal is the commoner species in the north and east. Harbour Porpoises are resident in Gascanane Sound. The ocean to the south of Sherkin is rated as one of the top areas in Europe for cetacean watching.
A dedicated boat trip is recommended in order to see the best of what is on offer but a land-based sea-watch on a calm day can still turn up the goods. Common Dolphins are very common – at times the sea seems to be boiling as a result of their activity. Bottlenose Dolphin and Risso's Dolphin are much scarcer, though both are seen on a regular basis. The commonest whale is Minke Whale and a double figure day tally is not unusual. Humpback Whales have also become regular over the past decade or so – a breaching Humpback falls safely into the 'must-see experience' category.
Lastly, there is the not inconsiderable matter of the second largest animal on the planet – Fin Whales occur regularly off the south-west coast of Ireland and can reach an incredible 30 metres in length, definitely another 'must-see-experience'.
Reptiles and Amphibians
Sherkin Island is also home to a large gathering of reptiles and amphibians. The common lizard and frog are plentiful on the island and help sustain the vibrant bird life
Flora and Fauna
The diversity of landscape is not lost on Sherkins flora and fauna
Winter
Celandine, Lesser
Chickweed, Common
Fern, Hard
Fern, Maidenhair
Field-speedwell, Common
Gorse
Groundsel
Hart's-tongue
Heliotrope, Winter
Ragwort, Oxford
Shepherd's-purse
Strawberry-tree
Summer
Summer brings a symphony of wild flowers and shrubs. The Flora and Fauna of the island spring to life creating a whole new landscape.
Alkanet, Green. Pentaglottis sempervirens. …
Aster, Sea. Aster tripolium. …
Bellflower, Ivy-leaved. Wahlenbergia hederacea. …Bellflower, Nettle-leaved. Campanula trachelium. Bitter-vetch. Lathyrus linifolius. …
Bittersweet
Blue-eyed Grass
Bluebell
Spring

Irelands native Furze bloom from February to May and they ensure a wonderful aroma of coconut blankets the island. On the north side, close to Cow and Silver Strands, the Spring brings the beautiful  grassland to life with a mass of orchids and other flowers. The penultimate can be seen flowering in June.
Rose Rugosa flowers in late Spring/ early summer and offer pleasant viewing along the road side and walking trails in Sherkin.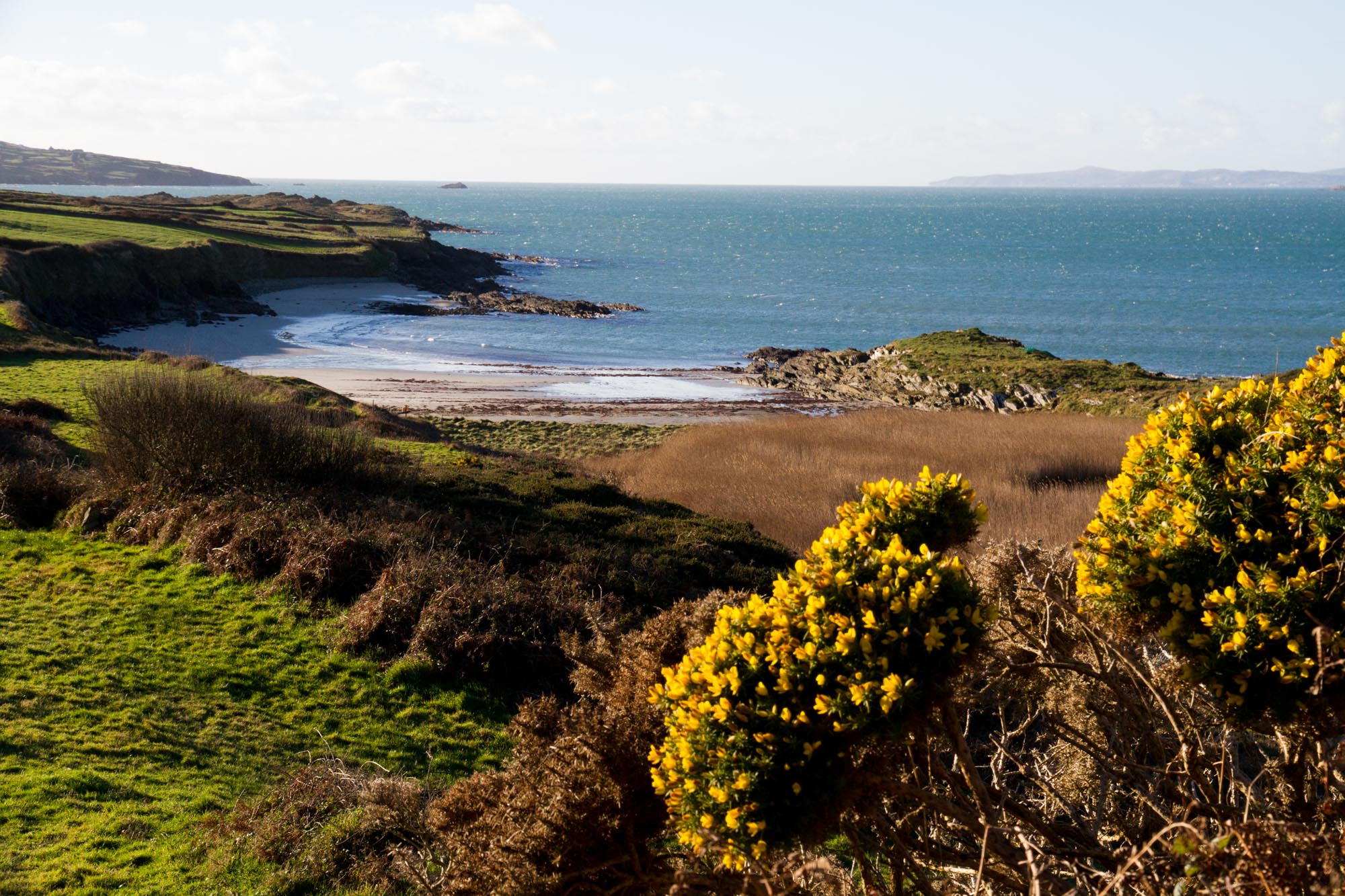 Autumn

While this is a quieter time for Flora and Fauna the Sherkin landscape never disappoints! This time of year, brings a rugged beauty to the island which is a feast for the eyes.
The Sherkin island guide
Welcome to Sherkin Island! The ancestral home of the O'Driscoll clan is the most accessible island in Ireland - only ten minutes by ferry from the fishing port of Baltimore.
The area boasts a wonderful array of landscapes, Atlantic views from the hilltops, fuchsia-scented byways and the finest sandy beaches.
Download our free guide which includes a map and walk routes.
"Funded by the Department of Rural and Community Development"