 Sherkin Island is the convenient castaway destination, it is easy to get to but still provides that old world feeling.
See below for some sample itineraries for your next trip to Sherkin Island
One Day Trip
Leave Baltimore at 9.30am arrive Sherkin Island 9.45am
Take a walk around the island visit local galleries
Go Geocaching
Retire to Sherkin Island House for lunch
After lunch rent a bike from Sean the Shop
Explore the island beaches and talk to the locals
Find the Jolly Roger and have a much needed drink before getting the 6 o 'clock ferry.
Overnight trip
Get to the island early your accommodation will be happy to store your bags until check in
time. 
Take the 10.30am ferry
Arrive Sherkin Island 10.45am
Check in your bags
Explore your home from home
11.30am Go for a walk to TraBhan where you could see dolphins from the shore or go for a swim if you are brave enough.
1.00pm Head up to the Jolly Roger for a homemade snack and enjoy a drink or two
3.00 Check into accommodation and check out your home from home
3.30 Explore the host of birds and other wildlife that make Sherkin their home.
5pm Return to your accommodation you deserve a rest!
7 pm Get dressed you are going out
7.30 Have dinner at Sherkin House
9–12 Do a pub crawl both pubs are situated opposite each other and both offer a unique
atmosphere
12 Walk home beneath the night sky where you will see a blanket of twinkling stars
Next day
9.00am breakfast
9.30 head over to the North Shore for a wake up walk and a session of Yoga
10.30 Have a coffee at the Northshore and enjoy the panoramic views
12.00 Meander back to your accommodation
1.00 Bring a pack lunch to TraBhan perhaps go for a swim
5.00 Leave on the ferry arrive back in Baltimore at 5.15
Two night trip
A two-night trip allows you more time and you don't have to jam pack your
down time
. 
The list of activities below can help you fill it
Nature watching
KiteFlying
Wild Atlantic Island Hopping
Picnics on the beach
Go Geocaching 
Go stargazing
Visit the Traditional Wooden Boat An Run and An
Hanoah
Ferries for Sherkin Island leave from the small fishing village of Baltimore. The trip across the harbour from Baltimore takes approximately 10 minutes and both the winter and summer ferry boats are fully licensed to carry passengers. The ferry is operated by Vincent O'Driscoll. Click the timetable below to link to the Sherkin Ferry website 
It's just a short ferry ride from the lovely West Cork fishing village of Baltimore to Sherkin Island. Find your way to Baltimore, and set out as a foot passenger to explore this beautiful island! A car park is available close to the ferry departure point in Baltimore.
Find your way around Sherkin Island with our map!
Visit the beautiful beaches Sherkin is famed for, pause to admire stunning views, explore our new walking routes signposted on the island, or call to the artists' studios and the community centre to see the creativity of this 'Island of the Arts'.
Sherkin North Shore hosts everything from yoga retreats to art weekends, and you'll find music, food, and drink at The Jolly Roger and Sherkin House!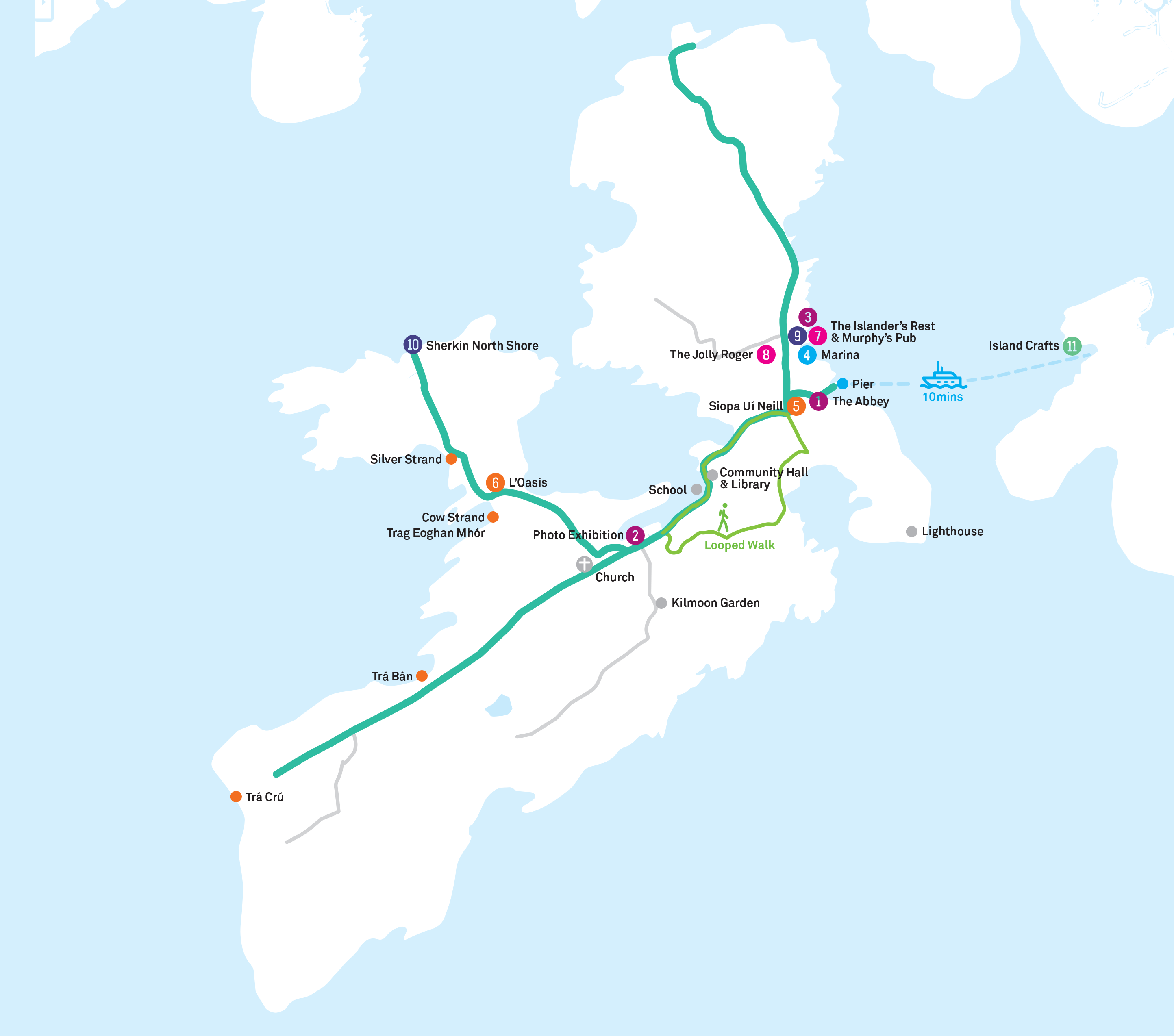 The Sherkin island guide
Welcome to Sherkin Island! The ancestral home of the O'Driscoll clan is the most accessible island in Ireland - only ten minutes by ferry from the fishing port of Baltimore.
The area boasts a wonderful array of landscapes, Atlantic views from the hilltops, fuchsia-scented byways and the finest sandy beaches.
Download our free guide which includes a map and walk routes.
"Funded by the Department of Rural and Community Development"